This cherry berry oatmeal is deliciously fruity and sweet without added sugar. Tastes like gummy bears! Try this easy kid-friendly recipe with oats and cherries for your next breakfast. Great for batch cooking or weekly meal prep, too.
Jump to: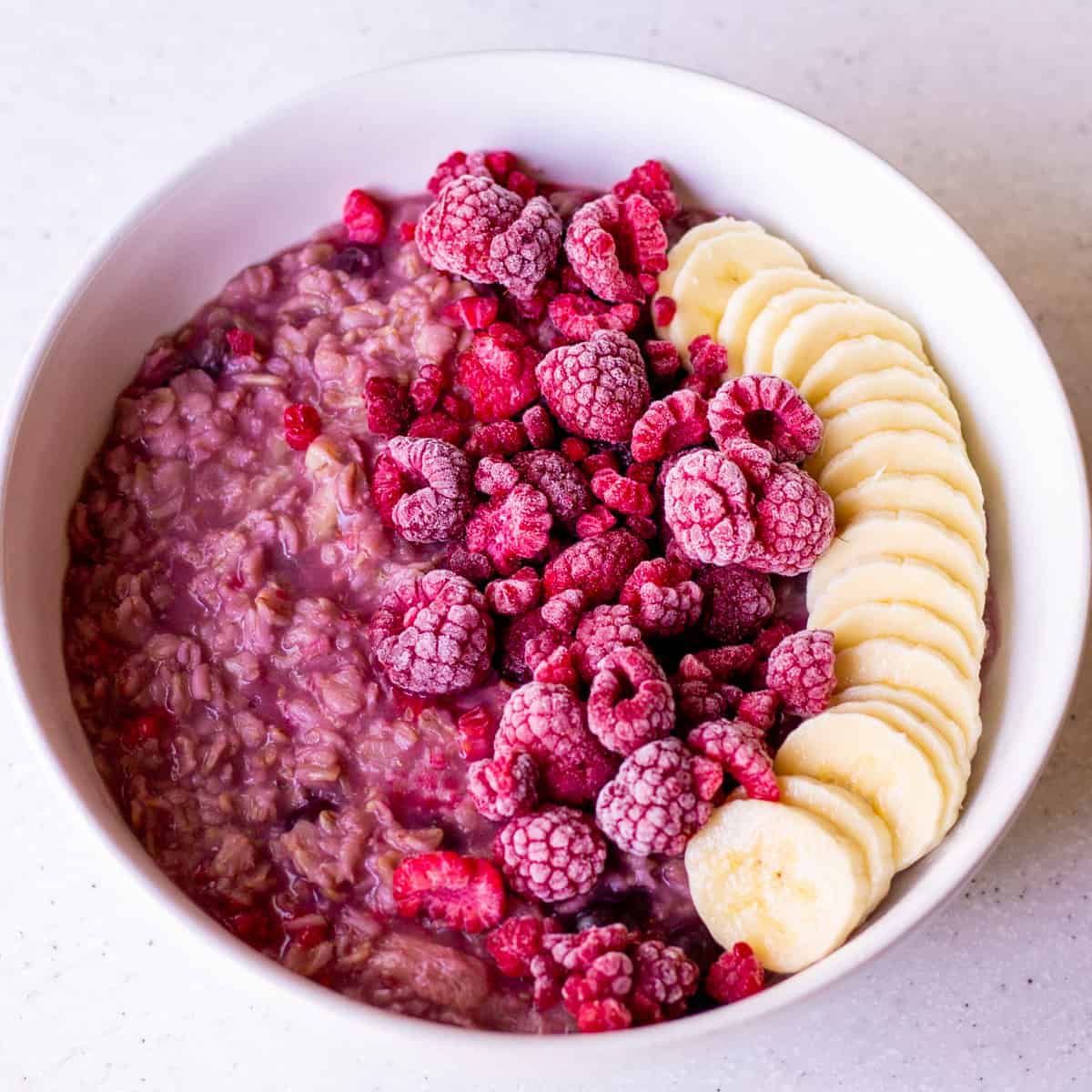 🧄 Ingredients
To make this healthy, low-fat cherry berry oatmeal, you'll need the following ingredients:
frozen cherries and berries (I buy a bag of frozen cherry berry blend that has mixed cherries (sweet and tart/sour) and berries at Aldi) You could also use fresh, pitted cherries and assorted berries (like strawberries, blueberries, blackberries).
bananas
frozen raspberries (these add bright pink color and that lovely raspberry tartness)
👨‍👩‍👦‍👦 Serving suggestions
Toppings!
This sugar-free oatmeal is so delicious with thawed frozen raspberries and sliced banana on top.
But, you could top it with anything you love, like:
Vegan weight loss meal
This cherry berry oatmeal is a great option for vegan weight loss because all the basic ingredients are low in calorie density. It will keep you full, as well.
To keep it low calorie density, then choose to top your oatmeal with fruit (like sliced banana, cherries or raspberries). Omit or limit higher calorie dense foods, like dried fruit, nuts, seeds and nut butters.
Change up your morning oatmeal
If you're looking for ways to spice up your everyday morning bowl of oatmeal, check out the below article → 10 Ways to Spice Up your Oatmeal.
❓ FAQ
What fruit goes good with oatmeal?
The top most popular fruits to eat with oatmeal are: blueberries, apples, peaches, strawberries, cherries, bananas and raisins. These fruits also go really well with oatmeal: blackberries, raspberries, nectarines, cranberries and nectarines.
How can I make oatmeal sweet without sugar?
Add sliced frozen or fresh banana to your oatmeal while it's cooking! It will melt into the oatmeal and sweeten it naturally. You can also add fresh or frozen sweet fruit to your oatmeal (like apples, peaches, cherries). If you are trying to stay away from cane sugar, try a natural sweetener like maple syrup, blackstrap molasses, agave nectar or honey.
🔄 Variations
Use all cherries
Instead of using a cherry berry blend, use all cherries (sweet, tart or sour). Or, use all berries!
Tart cherry oatmeal and sour cherry oatmeal are delicious! The frozen cherry berry blend I use from Aldi has sweet and tart cherries, so it's a nice combination.
Switch up the toppings
Switch out the toppings different weeks or spread out an oatmeal bar, so everyone can add whichever topping they like best. This works great for a weekend brunch or traveling with family. Some good choices are:
diced apples
sliced banana
diced pineapple
frozen cherries
frozen berries
💭 Tips
Batch cook this meal by making a double recipe, so you'll have plenty for breakfast over the week.
This recipe is great for kids, especially since it cooks up into such a beautiful color. My son says it tastes like gummy bears! So, I'd call that kid-friendly.
💜 More recipes you'll love
If you love this healthy recipe with cherries and oats, check out these other plant-based breakfast ideas!
Or, check out my other kid-friendly plant-based recipes!
Love this recipe? Subscribe here so you don't miss any new recipes!
Please rate it ⭐️⭐️⭐️⭐️⭐️ down below. ⬇️ And, if you make it, please tag me @veryveganish on Instagram in your posted photos! I would love to see your creations. 😄
📖 Recipe
Cherry Berry Oatmeal
This cherry berry oatmeal is deliciously fruity and sweet without added sugar. Try this easy recipe with oats and cherries for your next breakfast. Great for batch cooking or weekly meal prep, too.
Ingredients
4 cups water
2 cups frozen cherries and berries
2 ripe bananas, sliced, fresh or frozen
½ teaspoon vanilla extract
pinch sea salt
2 cups rolled oats
1 cup frozen raspberries (plus more for optional topping)
1 fresh banana, sliced (optional topping)
Instructions
Add frozen fruit, 2 ripe bananas, water and salt to medium pan and bring to a boil.
Add oats, bring back to boil and then reduce heat to medium low.
Cook until thick, then mix in frozen raspberries and turn off heat.
Serve with more frozen raspberries and sliced banana on top.
Notes
I buy a frozen cherry berry blend from Aldi and use this for this recipe. It has sweet and tart/sour cherries in it. You could also do a mix of whatever frozen (or fresh) pitted cherries and assorted berries you have on hand.
The frozen raspberries add a bright pink color to this oatmeal and a little tartness. They defrost really fast, so that's why I add them at the end.
The oatmeal is sweetened by the fruit and especially the ripe banana. But, you can certainly add sweetener to it, like maple syrup, sugar, brown sugar or whatever sweetener you like.
Nutrition Information:
Yield:

3
Serving Size:

1
Amount Per Serving:
Calories:

415
Total Fat:

5g
Saturated Fat:

1g
Trans Fat:

0g
Unsaturated Fat:

3g
Cholesterol:

0mg
Sodium:

63mg
Carbohydrates:

88g
Fiber:

16g
Sugar:

30g
Protein:

11g
Nutritional calculations are done using online tools, such as recipe widget Create. Even though we have tried to provide accurate nutritional information, these figures should be considered estimates.