A tangy, bright green cilantro sauce common in Venezuela. A big punch of salsa flavor that's not spicy, guasacaca sauce is perfect for arepas, tacos, nachos, falafel, salad, rice bowls and more. A plant-based, oil-free version is provided as well, with just one substitution.
Jump to:
🧄 Ingredients
To make this guasacaca arepa green sauce recipe, you'll need the following ingredients:
fresh cilantro
fresh parsley
onion
garlic
bell pepper
cooked white beans (or vegetable oil)
avocado (optional, to make a thicker, rich sauce/dip)
Don't have everything you need? Possible substitutions for these ingredients are listed in the recipe card below, in the notes section.
White beans or oil
Traditionally, oil is used in this recipe to emulsify the ingredients.
For an oil-free, plant-based version of this recipe, use cooked white beans instead. Or, you can use avocado (also a traditional, authentic ingredient) to thicken it.
I've also listed some additional possibly substitutions in the recipe card.
🔪 Instructions
Making this cilantro sauce is as as easy as adding the ingredients to a blender or food processor.
Which should you use to make this guasacaca sauce? A blender or food processor?
Well, that depends on if you're looking for a smooth sauce (this is most traditional) or a sauce with a pesto or chimichurri type of texture.
For a smooth, bright green sauce: use a blender
For a textured, chimichurri-style sauce: use a food processor
Here's a picture of both versions, so you can see the difference. Both have the same ingredients, but one was blended completely smooth in a blender. The other was processed in a food processor.
We enjoy both versions!
👨‍👩‍👦‍👦 Serving suggestions
Arepa sauce
The #1 reason to make this Venezuelan cilantro sauce is to drizzle it over your arepas, which are common throughout Venezuela and Colombia.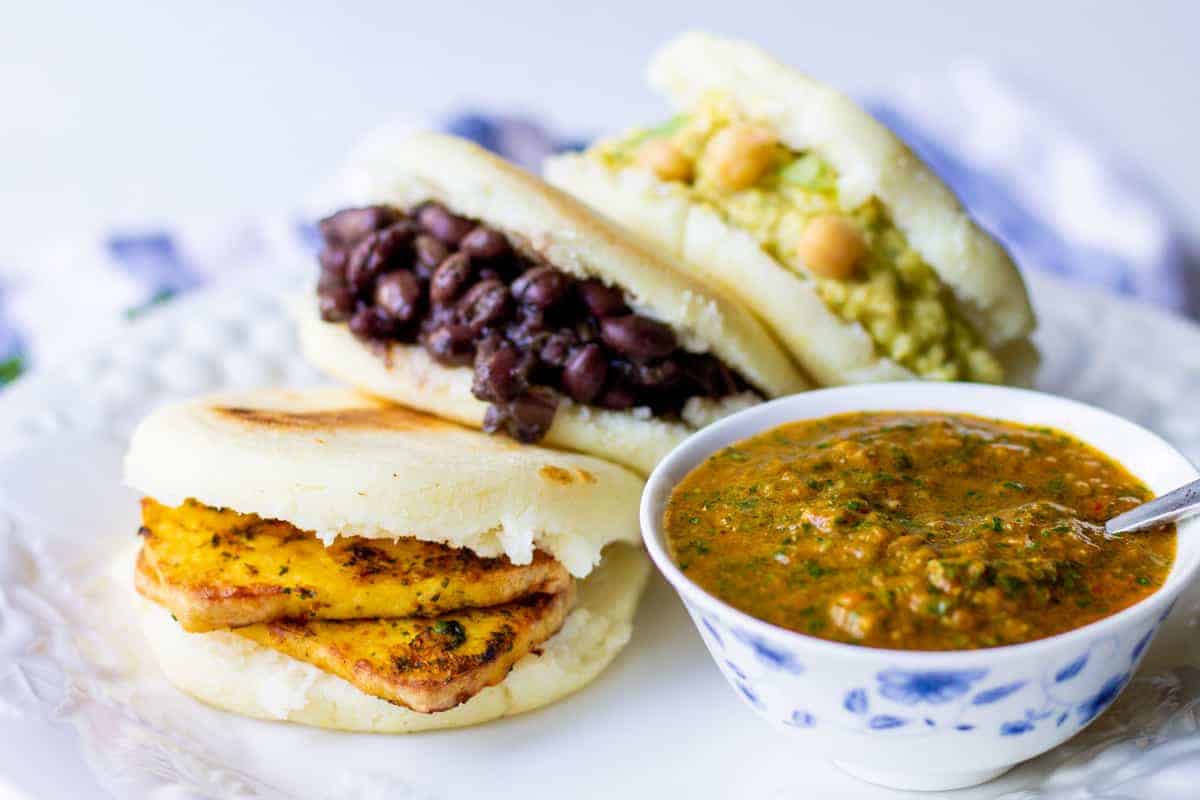 Salsa that's not spicy for tacos
If you love tacos and want a delicious, flavorful sauce to top them with, but can't handle spicy food, then try this cilantro sauce.
It's packed with herbs and aromatic veggies to give your meal a punch of flavor, without the heat.
Marinade for tofu
Marinate your tofu in this cilantro sauce and then bake or air fry it. The baked tofu can then be used for sandwiches, arepas or burrito bowls.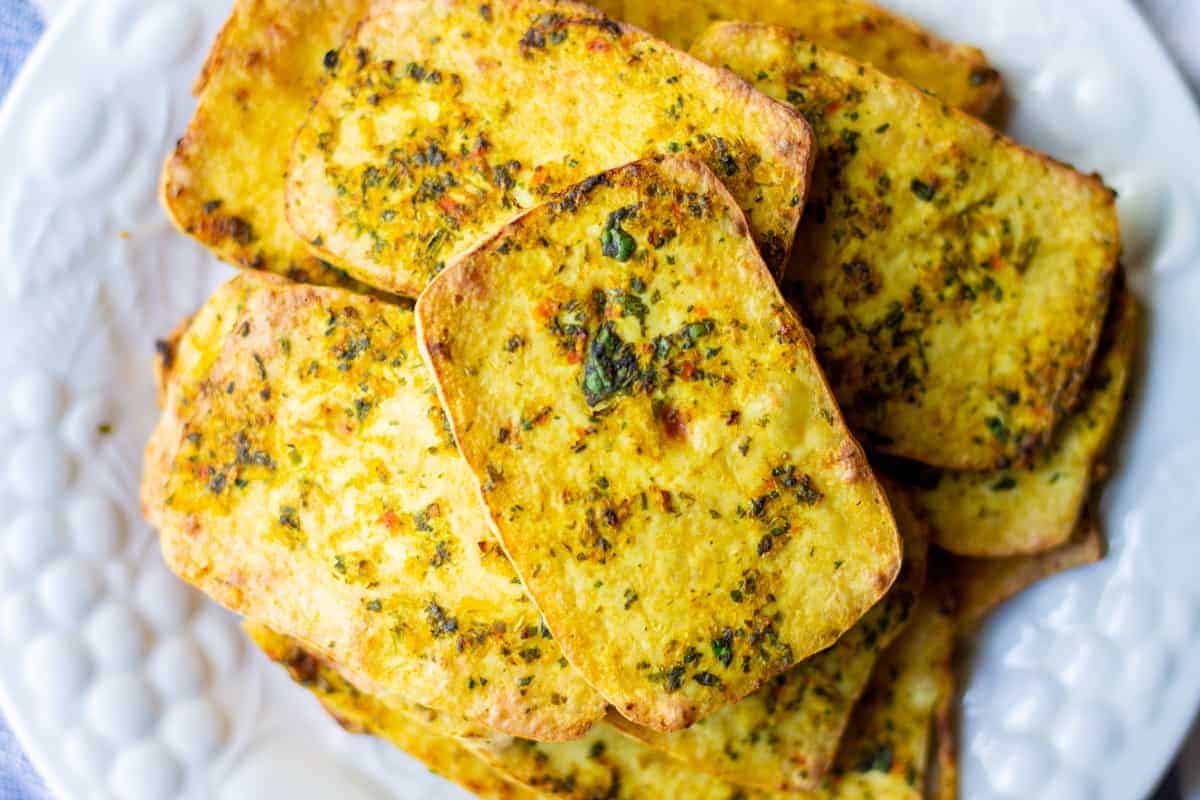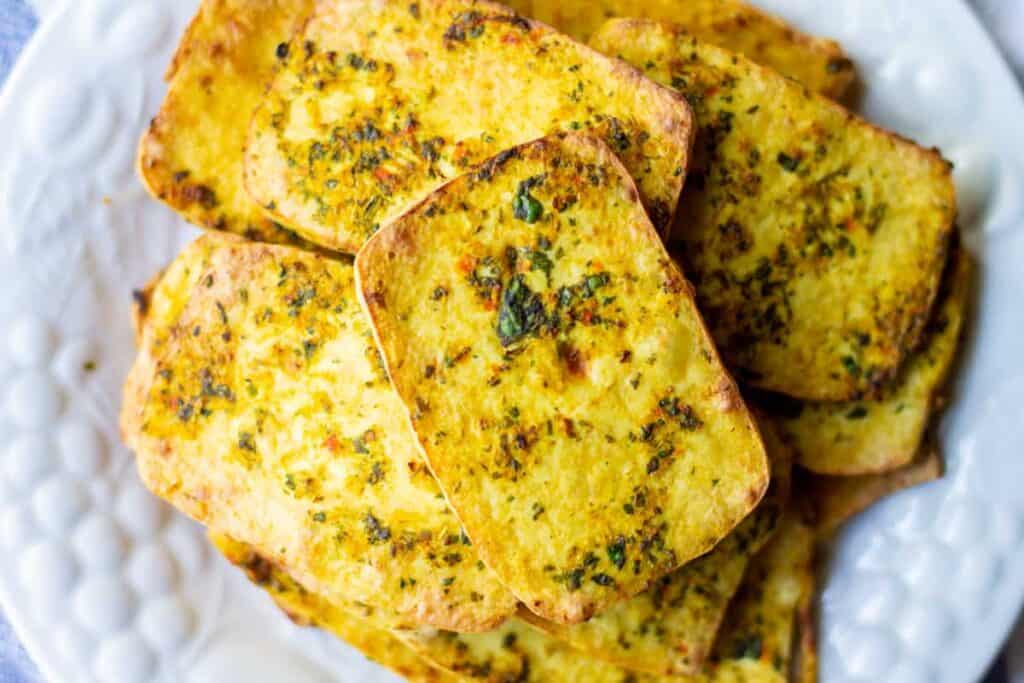 Add to hummus
Make a cilantro hummus by adding this cilantro salsa to your favorite hummus recipe.
Drizzle over falafel or pita pockets
The flavors in this sauce go really well with Mediterranean and Middle Eastern food, as well as Latin American, South American, Mexican or TexMex meals.
So, use it on falafel, pita pockets, grain bowls, schawarma, kebabs, salad.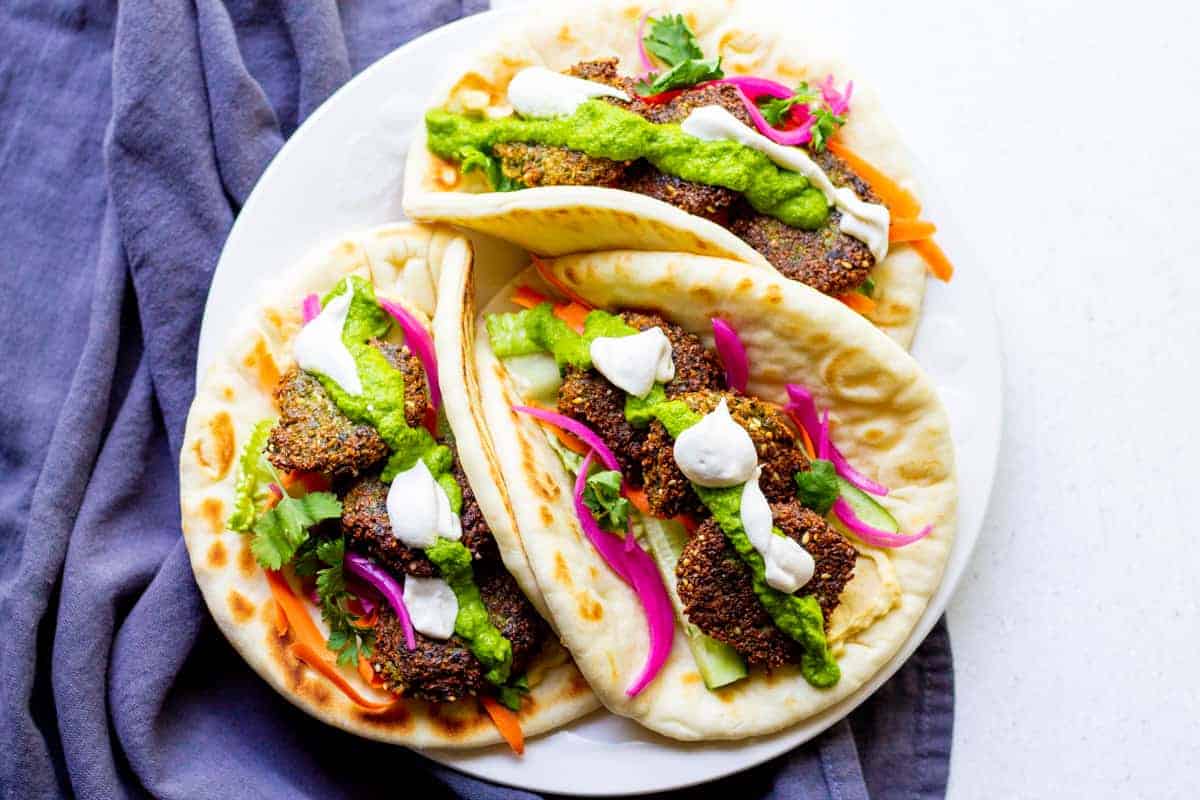 Use as a dip
Use this cilantro sauce (especially the thicker version with avocado mentioned below) as a dip!
Dip your tortilla chips, corn chips, raw vegetables, pita bread in this cilantro sauce.
Add to rice for green cilantro rice
Flavor your green rice using this cilantro sauce to make green rice that's not spicy.
If you'd like for it to be spicy, you can add hot sauce to the rice or chopped jalapeño pepper.
🔄 Variations
Cilantro sauce with avocado
This Venezuelan cilantro sauce is delicious for drizzling on arepas, nachos, tacos, pita pockets and falafel.
If you'd like to have a thicker, richer sauce, add an avocado to the blender and you'll have a sort of Venezuelan guacamole that is not spicy.
Milder cilantro sauce
For a milder sauce, use only cilantro and parsley stems and increase the parsley. This is a great way to reduce food waste and use up those herb stems!
Wondering what to do with leftover cilantro stems? Parsley stems? Use them to make this herb sauce!
You can also experiment with other herbs, as well like dill and basil. As long as the stems are not too woody, they would blend up.
A good test to see if they're tender enough to blend? Can you break the stem easily with your fingernail? Then, they should blend up just fine in a high speed blender.
Spicy cilantro sauce
To make this sauce spicy, add one jalapeño or serrano pepper (with seeds will make it spicier. Without seeds will make it more mild).
You could also add some cayenne pepper (½+ teaspoon) or hot sauce of your choice!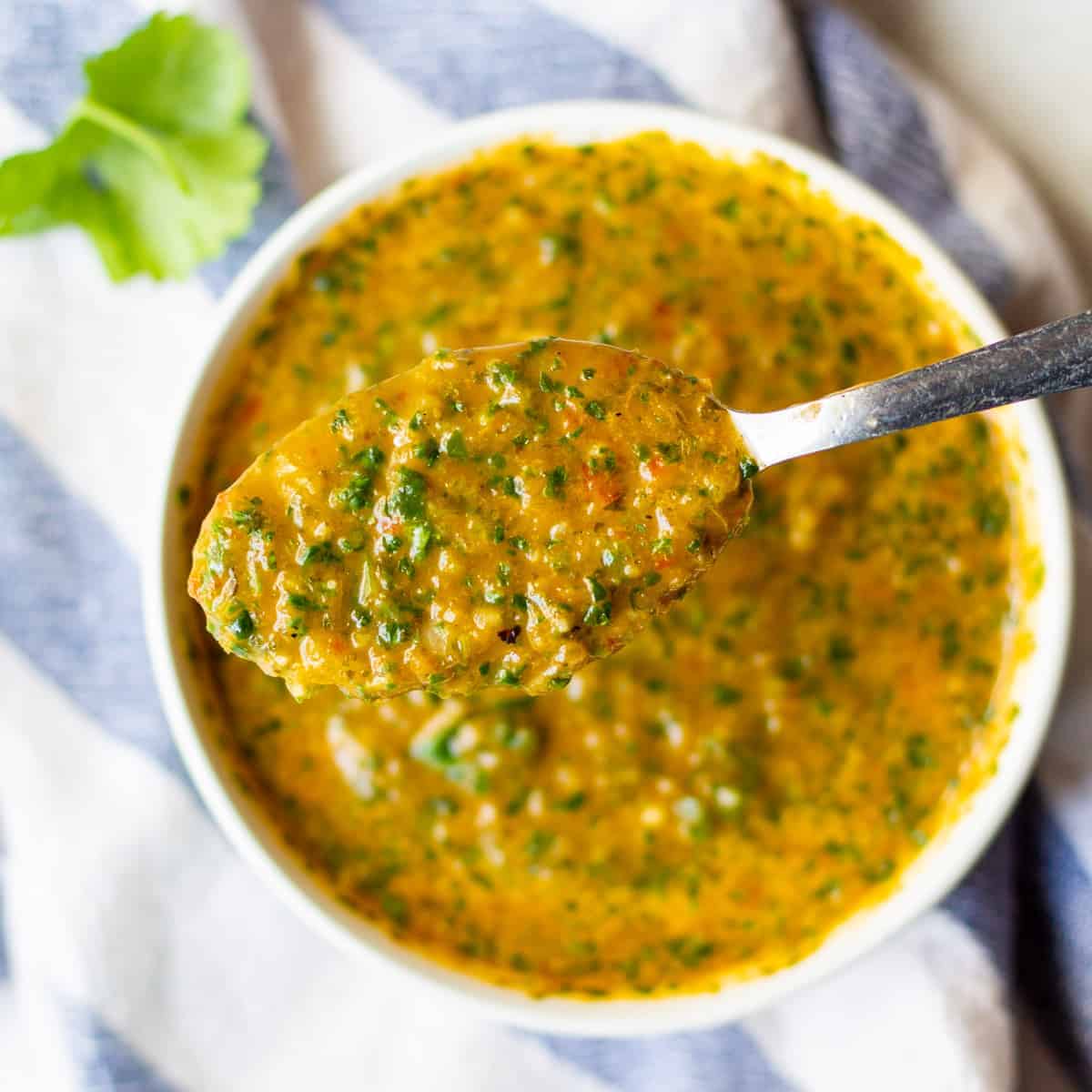 🗺 Around the world
Our Venezuelan friend and his mother taught us to make this recipe. In her cookbook it was labeled "Guasacaca Criolla sin Aguacate".
The version with avocado would be called "Guasacaca Criolla con Aguacate".
We learned to make this sauce in order to have a sauce/condiment for the arepas he taught us to make.
Venezuelans don't typically eat a lot of spicy things. So, you'll notice there are no spicy peppers like jalapeño or serranos in this sauce. If you like spice, you could certainly add some!
💜 More recipes you'll love
If you love this Venezuelan cilantro sauce recipe, then check out my other vegan, plant-based sauces and condiment recipes!
Love this recipe? Subscribe here so you don't miss any new recipes!
Please rate it ⭐️⭐️⭐️⭐️⭐️ down below. ⬇️ And, if you make it, please tag me @veryveganish on Instagram in your posted photos! I would love to see your creations. 😄