You want to eat more vegetables, but are struggling to actually do it. Try one or two of these ideas to incorporate more veggies in your meals the next time you're in the kitchen.
Jump to:
Why it's hard to eat more vegetables
No one's arguing about the benefit of eating more vegetables. So, what keeps the majority of people from doing it?
Time. Energy. Habits.
You need to make dinner, but you're exhausted and short on time. When you go to make dinner, you may have a habit of making a large portion of meat as the centerpiece, a starch to go with it and vegetables are an afterthought.
But, you want to eat more veggies. You know that they'll make you and your family feel better and be healthier.
I've been eating loads of veg every day for over a decade. Here are some simple and easy ways to incorporate more vegetables into your meals without having to think too much.
Don't overthink it. Just do it.
Time-, energy- and money-saving hacks
Buy steam-able bags of frozen vegetables that you will eat. Steam one bag with every dinner. Season with salt or get creative. Make it a habit. My favorite: frozen broccoli from Aldi. It's less than $1 per bag and I keep at least 6 bags in my freezer at all times. That lasts me about a week.
Other steamable bags of frozen vegetables I almost always have on hand (mostly from Aldi, my go-to for affordable every day groceries):
frozen corn
frozen peas
frozen mixed vegetables
frozen edamame (shelled)
frozen california medley (broccoli, cauliflower and carrots)
frozen green beans
Make vegetable soup or a giant salad with leftover veggies you have in the fridge before you go shopping for new produce.
Make the base of your plate leafy veggies (chopped spinach, kale, lettuce). Then, load up with rice, beans, potatoes, whatever you're planning to have.
Use pre-washed salads to make this as easy and convenient as possible. Greens go bad quickly, so eat them even quicker!
Make eating veggies a convenient option. Put them face-level in your refrigerator. Pre-wash and cut them so they're easy to use when you're tired.
Buy pre-cut onions and carrots, if you don't have time to chop. These are more expensive but time-saving, so you can choose what's more important to you.
Frozen veggies are great for nights when you're too exhausted to make something elaborate but you don't want to order out. Heat a starch like rice, steam the veggies and top with your favorite sauce (like teriyaki sauce).
Or, make these roasted air-fryer potatoes with broccoli.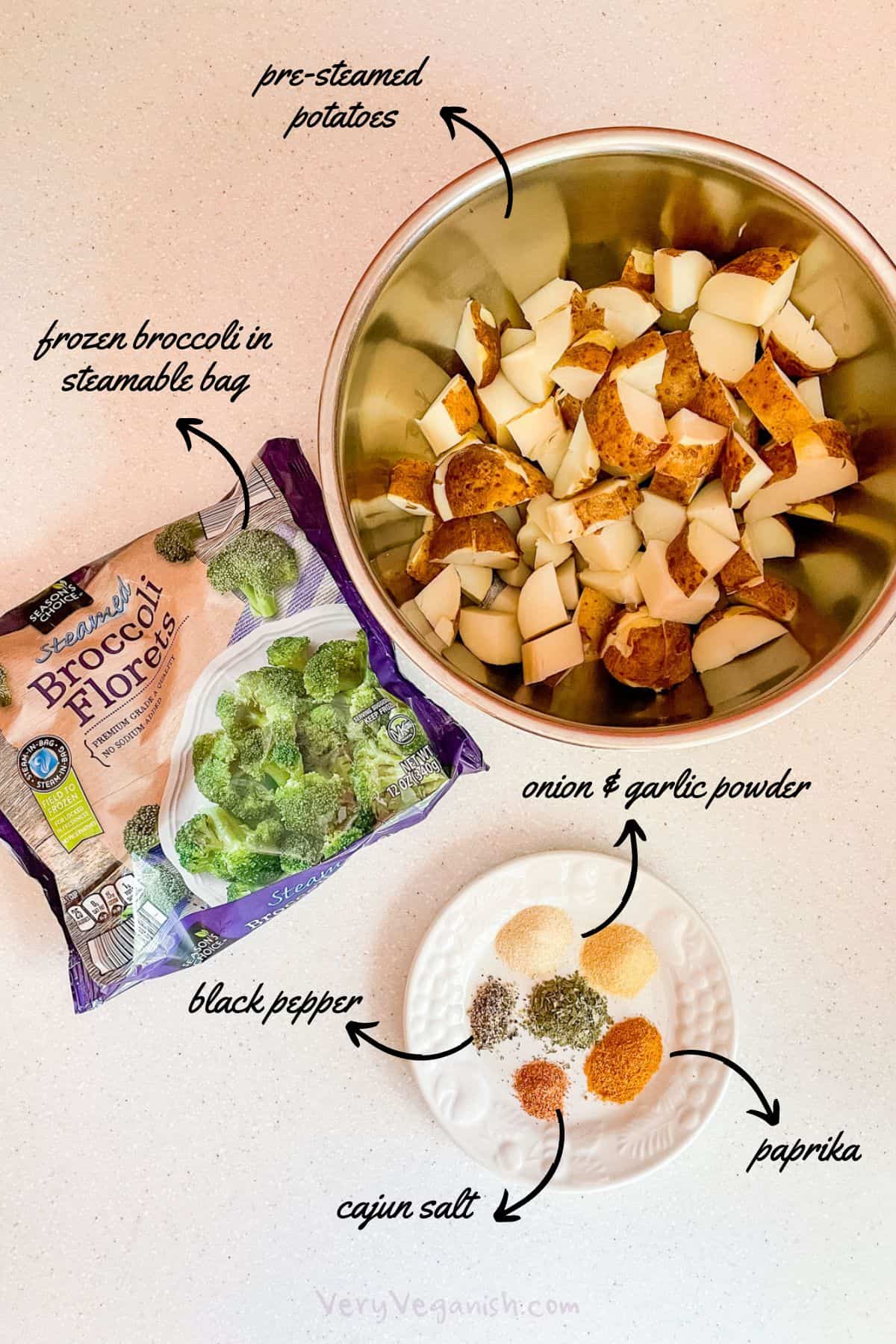 When you are cooking and having your cutting board and knife out, go ahead and chop extra veg for another day. Having pre-cut cabbage makes it easy to throw it in a pan for a side of charred black pepper green cabbage tomorrow. Or, effortless to grab those cut cucumbers as a snack for tomorrow's errands.
Veggie suggestions for your next meal
Over the years, I've experimented with LOTS of combinations. These are tried and true veggie additions to some popular meals near where we live.
Add diced or shredded carrots and/or zucchini to your pasta sauce
Make it a goal to add at least three veggies to every meal. Diced onion, tomato, bell pepper, for example can be added to a burrito.
Making Spanish rice? Add diced onion, carrot, bell pepper, tomato, garlic, cilantro and a frozen bag of mixed vegetables (corn, peas, carrot, green beans) to the water.
Making vegetable korma? Add onion, cauliflower, carrot, potato, peas.
Making Thai curry? Add bell pepper, cauliflower, eggplant.
Making creamy pasta? Add broccoli, mushrooms, green peas.
Having mashed potatoes? Make two vegetable sides, such as sautéed lemon pepper asparagus and roasted broccoli.
Making pizza? Add black olives, green peppers, onions, mushrooms, green olives, tomato slices, fresh basil, sliced banana peppers or diced broccoli as topping options.
Making a pot of beans on the stove, Instant Pot or slow cooker? Add veggies! Aromatics like onion, garlic and herbs are staples. But, my charro beans also have celery and tomatoes. Sometimes, I'll also add carrots and bell peppers.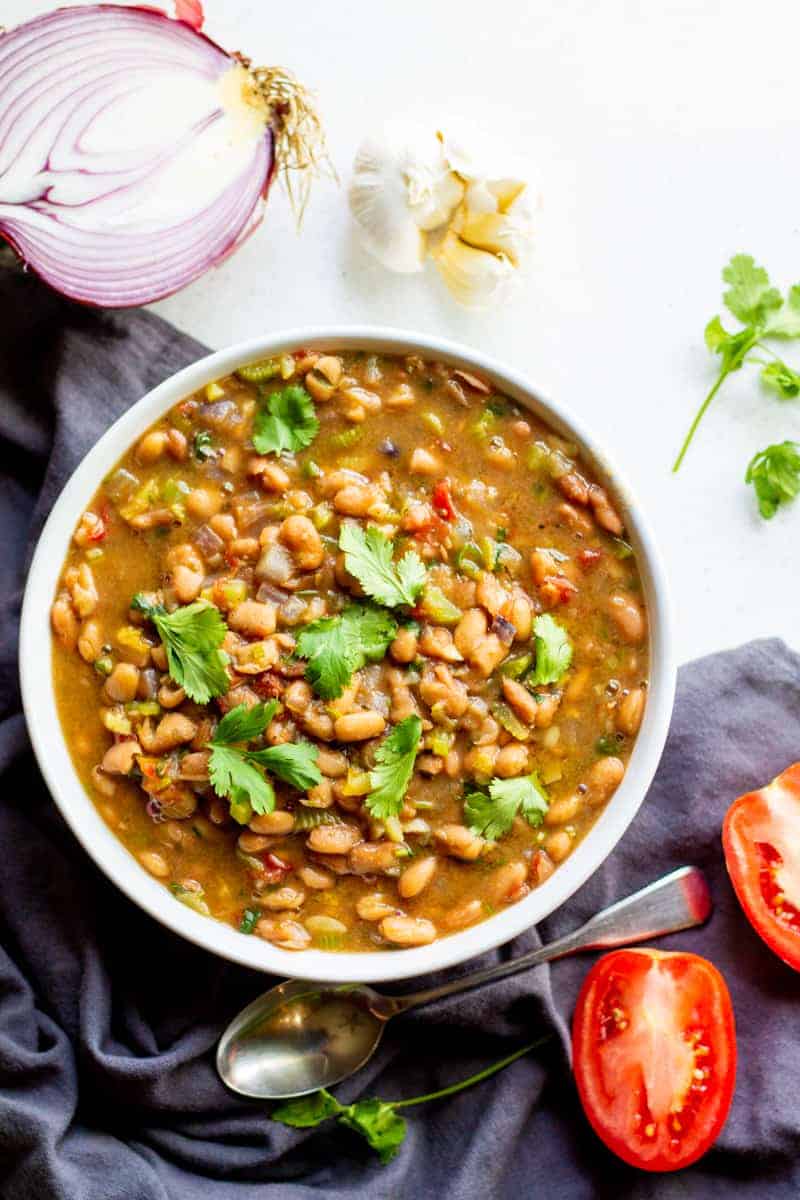 Having noodle soup? Stir in a handful of spinach to the hot soup and watch it wilt and amp up the nutrition in your bowl.
Making tacos? Sauté onions and bell peppers as a base. Top with shredded lettuce, shredded cabbage, pico de gallo and avocado.
Want sushi? Order vegetable rolls.
Snack on mini cucumbers, carrot sticks and celery sticks.
Craving poké bowls? Top your sushi rice with tofu, loads of cucumber, avocado, shredded carrot, asparagus, edamame, mandarin oranges, pickled beets, ginger and seaweed snacks.
Barbequeing? Make grilled veggie kebabs of onion, bell pepper, zucchini, mushrooms and tomato with or without the addition of a small amount of protein, such as marinated tofu, meat or seafood.
Having beans and rice? Top it with a generous handful of shredded lettuce and diced tomatoes.
Veggies are enjoyable
Buy the vegetables you enjoy eating. It's okay to eat these a lot. Variety is good, but it's okay if you eat broccoli every day, too. Especially when you're new to this.
Ask your family to tell you their favorite vegetables and how they like them prepared. Ask them if they would prefer a green salad or vegetable soup to go with dinner. Then, make those regularly.
Slowly introduce new foods and new preparations.
Make them taste good!
As your taste buds change, you may enjoy plain steamed veggies like I do. But, I also really enjoy tasty food. So, I use spices, herbs, salt, hot sauce, condiments and sauces to make my food as tasty as it can be. You should do the same!
Think outside the box. Don't just add toppings that you think should go with a dish. If you like the idea or want to try adding crunchy red cabbage to your poke bowl, do it! Never had tacos with carrot? Do it! Never had pasta with cauliflower sauce? Do it! Never had broccoli on a pizza? Do it! (These are all delicious, by the way)
The worst that can happen is you don't like the flavor and may not eat it again. But, you may love it and have a new favorite meal, WITH loads of veggies.
Reminders worth stating
There is no need for you to eat meat or animal products to be healthy.
You can get all the nutrition (protein, carbohydrates, fat, vitamins, minerals, antioxidants) you need from plants, with the exception of B12, which comes from bacteria in the dirt. Most people are deficient in B12, not just those eating a plant-based diet, by the way.
It's okay to eat lots of carbs. They give your body, muscles and brain the energy it needs to function. In fact, it's healthy to eat whole carbohydrates (potatoes, sweet potatoes, whole grains like wheat, brown rice, etc.) as the entirety of your plate or the majority of your plate.
It's okay and even healthy to eat more than one type of carb at one meal: like beans and rice, potatoes and rice, pasta and potatoes, etc.
If you want to continue eating meat, okay. Make meat a condiment: not the main attraction. Doing this will reduce your risk of developing cancer, heart disease, kidney disease and diabetes.
Fill your plate with whole grains, starches like potatoes, vegetables and fruit. Then, make a little corner available for your meat.
You do not have to be 100% strict to be healthy.
Do the best you can. Then, go from there.
Simple meals can be healthy. A meal does not have to contain "superfoods", expensive products from Whole Foods or take hours to prepare to be healthy. A plate of potatoes can be healthy. A plate of rice and beans can be healthy. A place of pasta with marinara with a green salad out of a bag can be healthy. It does not have to be expensive and it does not have to be complicated.
The simpler meals are easier to make over and over again.
Simple = success.
I'm here to help you in any way I can to eat more plants. ♡